We met on the banks of the North Santiam River with spey rods in our hands. Kyle Smith, a Trout Unlimited staffer from Oregon, had offered our group the opportunity to learn how to spey cast, and more importantly, the chance to hook into an illustrious steelhead. When he asked us if we would like to join him for a day on his drift boat, we answered with a resounding yes.  
     While we prepared the drift boat for launch, Kyle gave us an introductory course into spey casting. We immediately learned that spey casting is no simple task. Watching Kyle's fly line dance off of the water and shoot forward with ferocious velocity was enough to bring smiles to each of our faces. A good spey cast is truly art in motion, and Kyle's form was no exception.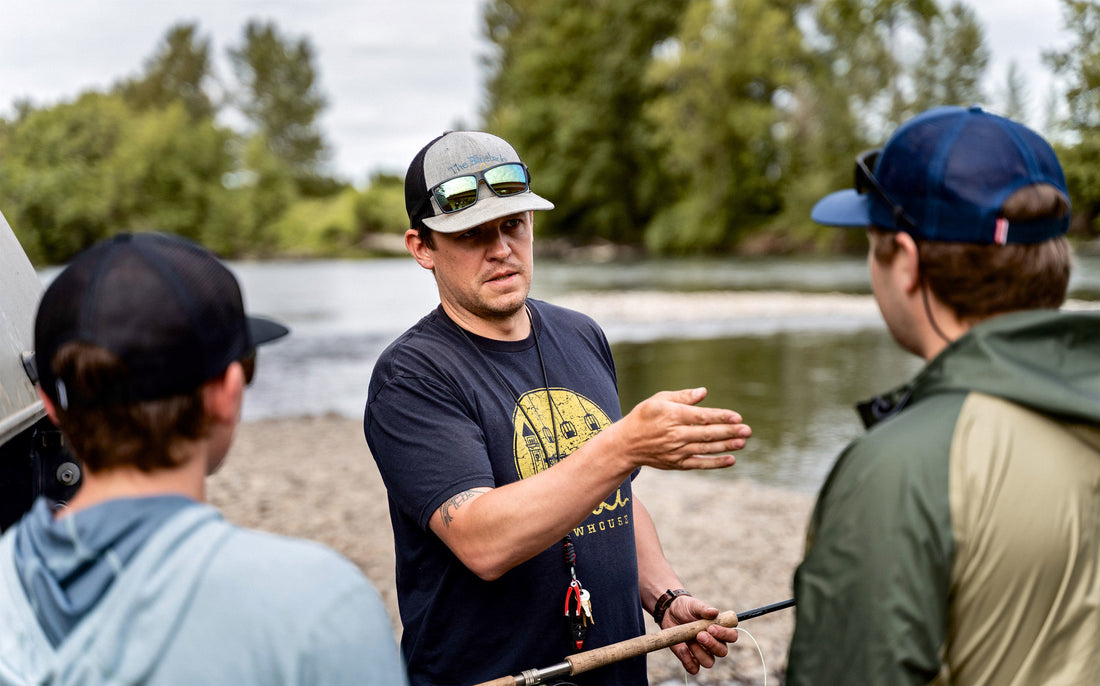 Soon after beginning our float down the emerald colored river, Kyle informed us of Wild Steelheaders United, an organization created to inform anglers about steelhead ecology, biology, and the conservation efforts of Trout Unlimited. One of the missions that Wild Steelheaders United is seeking to promote is responsible angling. Steelhead will often come into the mouths of the Columbia River tributaries to seek refuge in the cold water that those tributaries can offer. During this time, guides and anglers alike will target these cold water havens, because the steelhead in these areas are abundant. Wild Steelheaders is working to educate fellow anglers on the importance of these cold water habitats and the role that angling pressure plays on vulnerable steelhead populations during their time there.
     It was hard not to understand what was going on while we gorged ourselves over a riverside lunch of fresh elk burgers. We were taking the next step in becoming responsible anglers, ensuring that steelhead will have a future within the Pacific Northwest. Although the group was unable to land a steelhead, the importance of creating a sustainable future for these fish was not lost on us. Being a responsible angler matters. Voicing our concerns when something is wrong is what makes this community special. As educated anglers, it is our responsibility to understand when the decisions we make are not in the best interest of fish, particularly steelhead. When we accept this obligation, it is our job to set an example of what it means to be a responsible angler.
     Trout Unlimited's 5 Rivers Odyssey is an annual summer promotion helping raise awareness surrounding public lands and native salmonids. In partnership with Fishpond, college students visit public lands across the United States, catching native trout and salmon along the way. This year, students are exploring the Columbia River Basin and the threats that face its amazing fisheries. The lessons they learn on their travels represent an amazing effort by TU to strengthen our community and improve the outlook for critical habitats and species. For more information on the TU 5 Rivers program, click here.