Growing up fishing in the Land of 10,000 Lakes, my quarry consisted of a wide variety of freshwater fish.  Just a few blocks from home, our local lake was not what you'd consider prime water.  In fact, it was connected to several drainage ditches from the corn and soybean fields that dominated our part of southern Minnesota.  So, fertilizer-fueled algae blooms were common, and the target species consisted of bullheads and carp, with the occasional sunfish or pike if you were very lucky.  We always wondered where those pike came from, but they probably wished they could find their way out of the murky waters and back to someplace more suitable.  Our family often traveled to northern Minnesota, where we'd fish for walleye, pike, crappie, largemouth and smallmouth bass in the clean waters in and around the Boundary Waters Canoe Area Wilderness.  (Check out Sportsmen for the Boundary Waters to help make a difference for the future of this incredible wilderness fishery.)  As a kid in the 1970s, I remember seeing amazing footage of Curt Gowdy hooking and fighting an acrobatic and exotic fish found down in the Florida Keys, which seemed a world away from Sibley County…tarpon!  Shows featuring billfish like marlin and sailfish also captured my imagination.  But, it would be decades before I had a chance to fight any of these species.
Back in the fall of 2013, my wife and I were fortunate to be invited to fish with friends in the Sea of Cortez off Baja California Sur in Mexico.  I was even luckier to land and release my first billfish – a 90 pound striped marlin – on that trip.  It wasn't all catch and release, however, as we enjoyed eating a few dorado (aka mahi mahi) that were caught as well.  After that, we were further hooked on travel in Latin America as well as saltwater fishing.  In 2014, we caught more dorado and some jack crevalle while on a winter getaway to Puerto Vallarta, Mexico.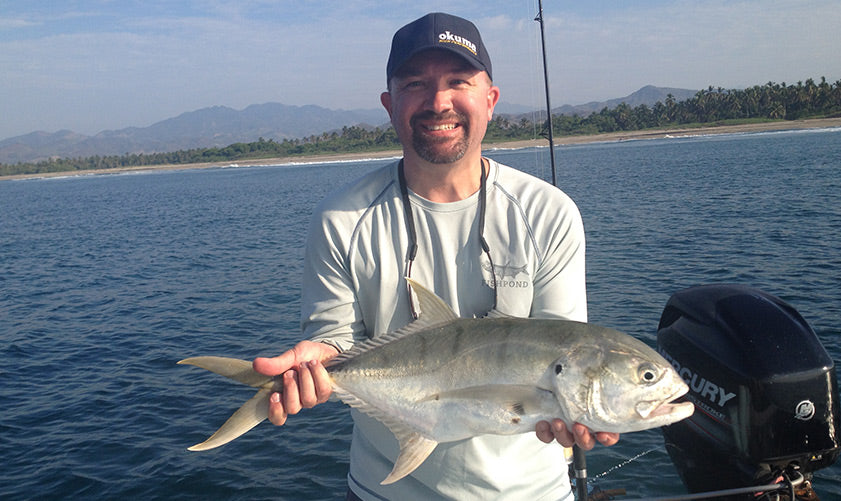 In early 2016, we traveled with friends to a small lodge in a tiny fishing village between Zihuatanejo and Acapulco on Mexico's south Pacific coast.  In addition to watching the Super Bowl on the patio behind the local convenience store with the owner and his family, we had some exciting fishing.  While several in the group were set on landing a billfish on fly gear, I'm not that much of a purist.  I like to catch fish, and if it's on conventional tackle, I'm fine with that.  In fact, on our first morning out, I landed my first ever sailfish in under an hour from when we put our baits out.  This was fishing out of super pangas, not cruisers, so exciting to play and land fish in those vessels.  Over two days of fishing, my wife and I combined to land 5 sails and we lost a few others.  When the captain from one of groups' other boats radioed to check on how we were doing, our captain replied that we were catching fish, because we were "using real hooks!"  In addition to the billfish action, we spent an incredibly fun morning landing dozens of jack crevalle just outside the breaking surf along an unspoiled stretch of palm-fringed beach.  What a setting!  Lots of doubles and sometimes we even had triples on the lines.  That morning, I had my only shots to date on another bucket list fish – the beautiful roosterfish.  My heart was pounding as the guides were yelling "rooster!" when I was retrieving my big topwater lure.  Alas, it was not to be.
In April of this year, during my first week living in Nicaragua, I had the pleasure of visiting a friend that I met at the 2016 Dallas Safari Club convention at his incredible jungle lodge at the edge of the Rio Indio Maiz preserve on the south Caribbean coast.  Circle back to that earlier mention of Curt Gowdy and tarpon.  When I was younger, I always wanted to hook and fight a big silver king.  Then, as the years went by and things like "back problems" entered my vocabulary, it turned into thinking about catching baby tarpon instead of the big ones that might require a trip to the chiropractor or worse after a lengthy battle.  Well, they don't have baby tarpon at the mouth of the Rio Indio in Nicaragua.  But they do have big ones – as in really big ones.  They release fish over 200 pounds there every year.  So, of course my first tarpon tipped the scales right around 100 pounds.  Not a terribly huge one, but more than big enough for me!  The fishing had been slow for a couple of days, but that day we released 3 (all around that size, give or take a few pounds) and lost several others as they threw the hook while doing the seemingly impossible acrobatics that tarpon are so revered for.  It was a day I'll never forget – and one I hope to repeat sometime in the not too distant future. 
So, I've been lucky to land several of my dream fish in the past few years, but there are others still out there.  You hear that, pez gallo? I'm coming for you!  The next trip in the planning stage is on the Pacific side of Costa Rica in June of 2017…and I can hardly wait.