EVERYTHING HAPPENS FOR A REASON
The sounds of the wind, birds, the river, and my traveling companions' voices. For nearly three weeks in the summer of 2001, those were the only sounds my ears took in. The sun didn't set but instead made a circular trip around the horizon rising and lowering through the days and nights. I was on a trip that would change the direction of my working life, but I didn't know it at the time.
I won't bore you with many details, but I had spent the previous ten years working in an office setting with a career in the commercial financial services industry. My educational background led me to a series of different positions with increasing responsibilities, financial rewards, and stress. The company I worked for was sold twice within a span of twelve months, and our small office was set to close up shop. Instead of relocating to remain with the company,  I accepted a generous severance package and asked myself, "What do I want to do next?"
Knowing I'd have months of free time that summer I began planning something big.  I'd been to Alaska several times before on short trips, but this was a chance to do something epic, a truly once-in-a-lifetime adventure.  I'd been aware of the debate over exploring for oil in the Arctic National Wildlife Refuge, our nation's largest refuge at over 17 million acres located in the extreme northeast corner of Alaska.  It's logistically difficult to access and visitation numbers are low.  I booked a trip to the Refuge with an outfitter in Fairbanks that would involve a backpacking component crossing the Brooks Range – Alaska's northernmost mountain range – followed by a rafting trip to float the Kongakut River out to the coast of the Arctic Ocean.
Sensing my interest in the Arctic Refuge drilling issue, the outfitter invited me to travel to Washington DC as part of a citizen lobby event to meet with lawmakers on the fate of the Refuge. The prospect of meeting with members of Congress was daunting and I was unsure of whether or not I would make the trip. In the end, I figured if I didn't go, perhaps my congressmen would think that no one in our state cared about this issue, so I made my way to our nation's capital in the spring of 2001. I met other activists from across the country, sat through a full day of training, and I'll always remember the words of our closing speaker that day: "What you're here to do just might be the most important and meaningful thing you'll ever do in your life." What had seemed intimidating was instead inspiring and I learned that speaking about something that you're passionate about is actually pretty easy.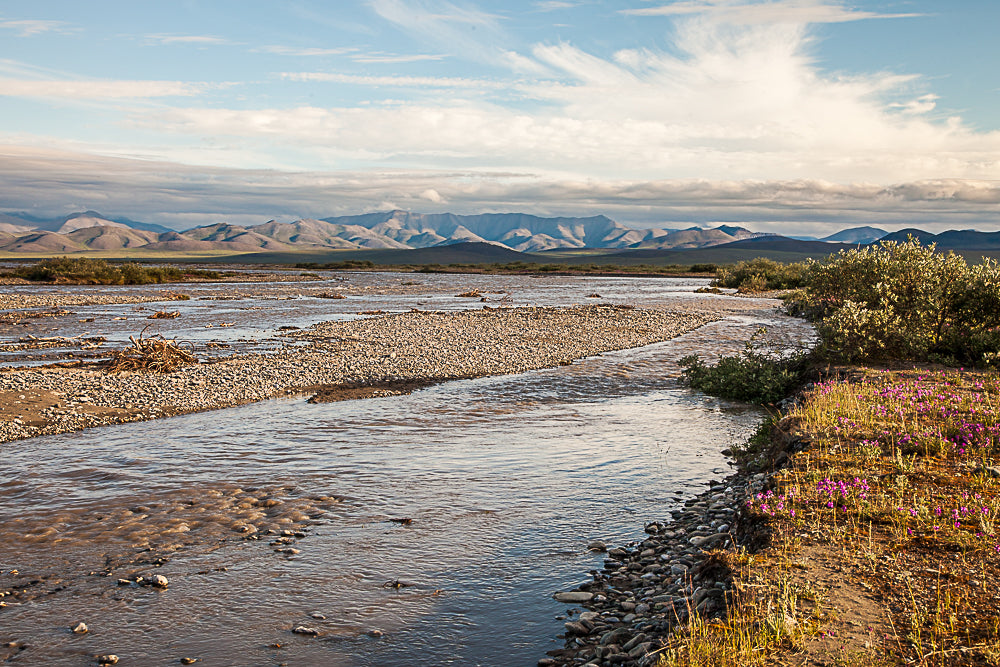 In June 2001 I flew from Fairbanks to a drop-off in a valley on the south side of the Brooks Range with one stop at the Gwich'in (Alaska Native) settlement of Arctic Village.  Our group of six required several flights to shuttle in our bodies and backpacking gear. When the plane disappeared to the south, I first experienced what truly big wild country is. Over the next week, we ascended the southern slopes of the Brooks and passed across its crest and down a canyon on its north side.  We saw grizzly bears and wolves from safe distances, probably being some of the only encounters those animals had ever had with humans.  My group included a couple of people for whom this Arctic Refuge trip served special meaning. One was a gentleman from Alaska who confided in me that he would be celebrating his 70th birthday while on our trek.  He didn't want others to know for fear that they'd worry about him successfully tackling such a grueling undertaking at that age.  We needn't have worried because he cruised through the trip with nary an issue.  Connected by our time together in such an incredible place, we've remained friends to this day, and he just turned 90 this June.  The other guy was much younger, probably in his 30s like I was, but who had some significant physical issues. To be honest, I think he withheld these issues from the outfitter because had they been known he likely wouldn't have been allowed on the trip.  Crossing swift-running ice water rivers and traversing steep hillsides on nothing but trails cut by centuries of caribou migrating across them while having issues with balance is not a good combination. Our guide performed incredibly in a challenging situation, and members of our group often took turns ferrying his pack to make it easier and less dangerous for him.  At the conclusion of the backpacking trip, he was in tears because I don't know if he even believed that he would be able to finish. It was possibly the biggest physical challenge he'd ever overcome. The Refuge means something to all of us, and it's often very different from one to the next.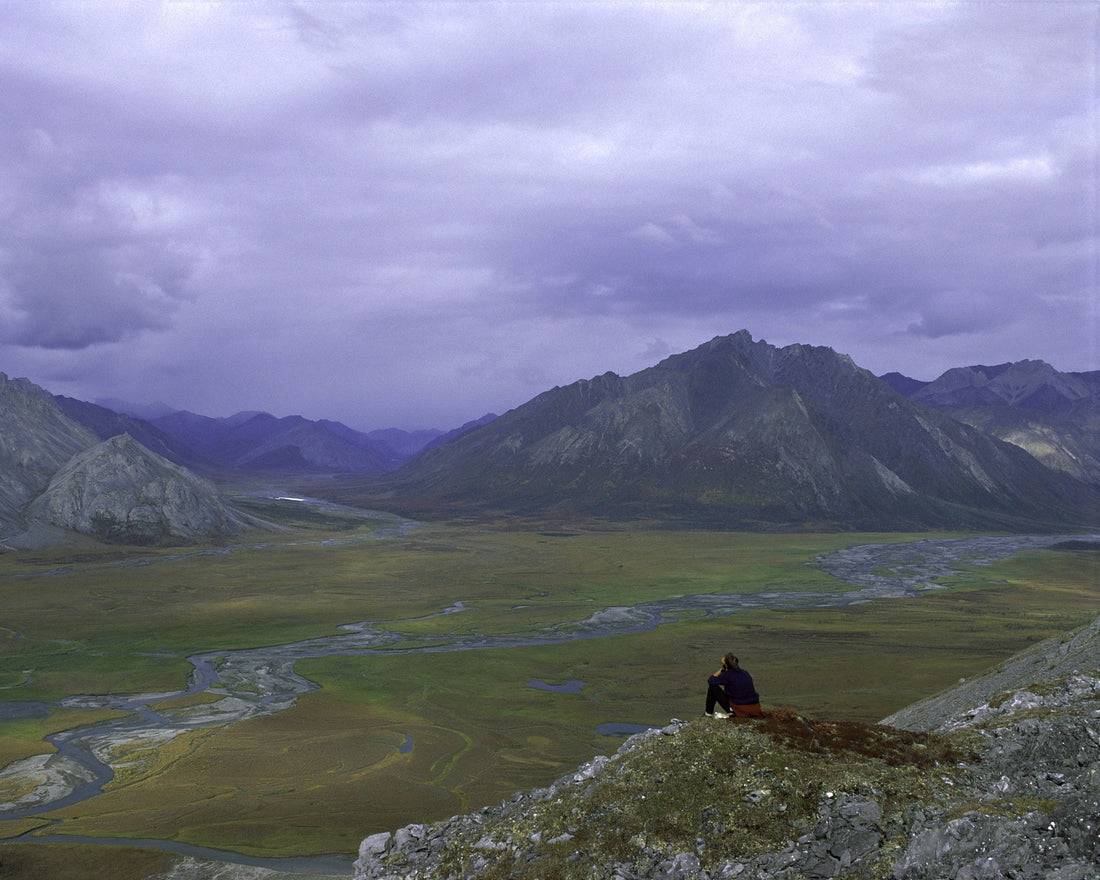 At the conclusion of our backpacking journey, a plane flew in to pick up the two guys mentioned above and drop off a few others who would join our group for the float trip on the Kongakut River. We were a group of nine in three rafts and the upper reaches of the Kongakut flowed rapidly. In June the winter snow still clung to the mountains and we floated through canyons of ice on either bank, a phenomenon called aufeis that is formed when rivers overflow and freeze numerous times in succession.  As we descended and the slopes became more gradual, the river widened and mellowed.  We spent days hiking ridges, spotting Dall sheep and more wolves – one pair that trotted below us either not knowing or caring that we were there.
At a point in the river appropriately called Caribou Pass, we camped, and our timing was impeccable as we witnessed one of nature's most incredible scenes. For over four continuous hours, thousands of members of the Porcupine caribou herd passed right through our camp on the riverbank.  We watched as these animals neared the conclusion of their annual spring journey from their southern wintering grounds in Canada to their springtime calving and feeding area on the coastal plain – referred to as the biological heart of the Arctic Refuge. Late snows had caused delays and many calves had been born on the migration route.  Cow caribou would stride into the Kongukut's current while their calves would remain behind on the bank bawling for their mothers.  The urge to migrate and to join their mothers became too much and the young caribou would leap into the current only to be swept downstream.  Tenaciously they kicked with everything their tiny bodies had and amazingly emerged on the other bank, always at a great distance from where their mothers had crossed.  The cries of the calves were answered by the grunts of the mothers, and it appeared that they were all successfully reunited - an absolute miracle of nature.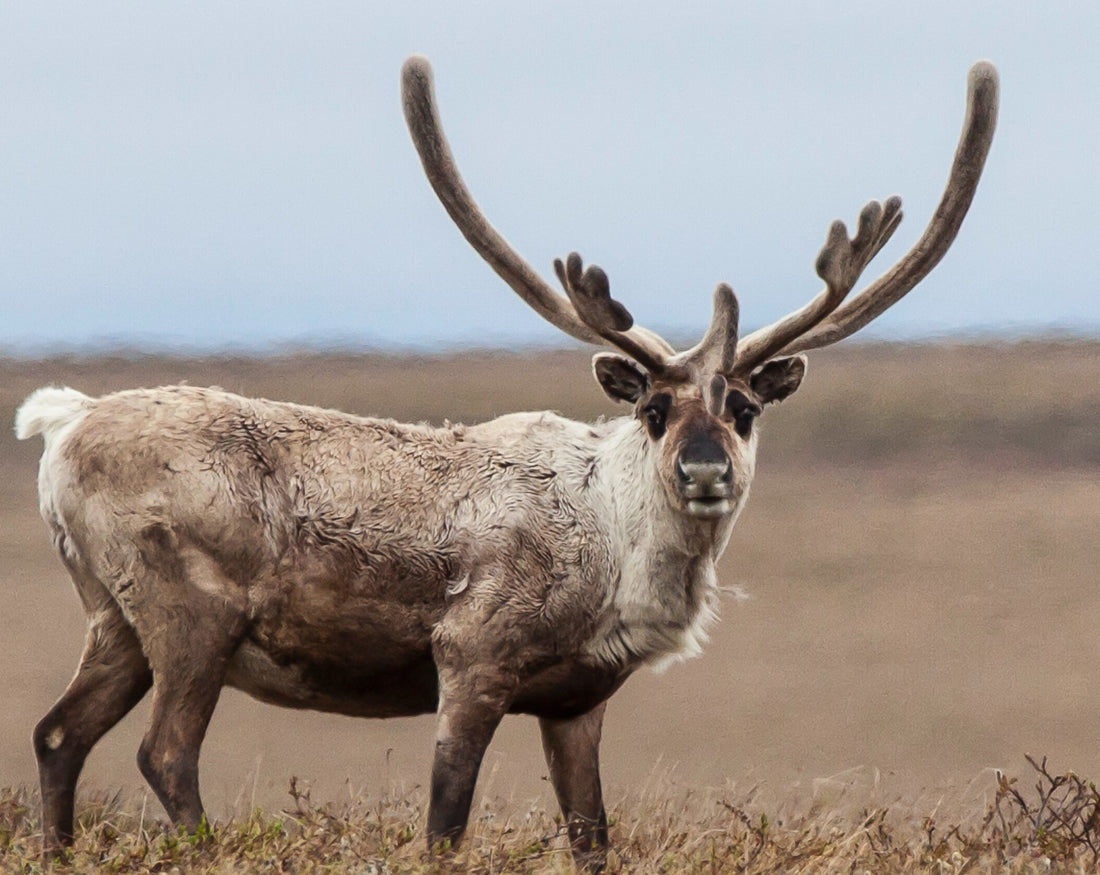 I woke a couple of mornings later and emerged from my tent onto the coastal plain. I had to rub my eyes because I wasn't sure if I was really seeing what was directly across the river on the far bank.  Yes, a musk ox was grazing, and it looked like a massive furry hay bale. We also saw a lone grizzly bear out on the flat plain and watched as it furiously but unsuccessfully tried to excavate a ground squirrel from the tundra.  One aspect of the Arctic Refuge that I was not prepared for was the diversity and sheer quantity of birds. Over the course of the year, millions of birds from nearly 200 species visit the Arctic Refuge from every flyway in North America as well as countries across the globe. Small songbirds, wading shorebirds, ducks, geese, loons, eagles, snowy owls, and more were seen. I was the only one on our trip that brought along a travel fishing rod and caught grayling and arctic char from pools deep enough for the fish to winter over.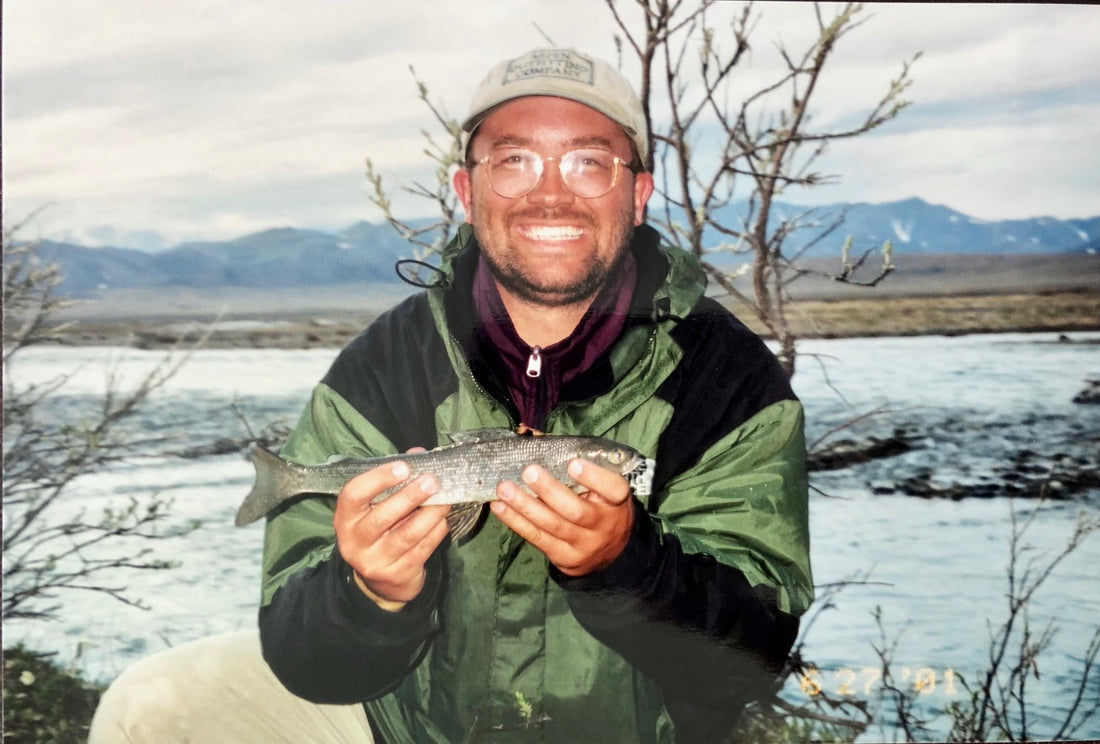 When our rafts reached the open water at the northern edge of Alaska, we had a few nights to camp on a barrier island and explore the Arctic Ocean ice.  We carefully hiked out onto the expanse of ice that extended as far north as we could see.  We saw polar bear tracks on the barrier island but didn't see the largest of all North American bear species as they are mostly on the ice hunting in the summer. They spend their winters denned in the tundra on the coastal plain. On our final night, our guides broke out a bottle of port and some cigars to celebrate the successful completion of our journey.  After most of the others had retired to their tents, I took an opportunity that I figured may never present itself again and I stripped to my underwear to run into the freezing cold waters and submerge myself in the Arctic Ocean.  Chilled to the bone, and totally invigorated, I sprinted back ashore where I dried off next to the bonfire and drank the last of our hot chocolate, hot Tang, hot everything!
The next day a series of planes flew in to pluck our group from the Arctic coast and return us to civilization.  After nearly three weeks of solitude in America's most remote, largest, and wildest National Wildlife Refuge it was a bit jarring to return to even the small city of Fairbanks. I spent another week in Alaska before returning home to figure out what was coming next for me in my working life. On my answering machine (dating myself!) was a message from a guy I'd met that spring in Washington DC and who I'd bumped into at the airport in Fairbanks before my Arctic Refuge trip.  "Hi, Scott.  I was wondering if you might know someone in your area who'd be interested in doing some outreach work to talk to people about the Arctic Refuge and why it should be protected." A few weeks later I was working a new job, and I'm thrilled to say I've never looked back.  It's hard to believe I've had the tremendous pleasure of trying to protect some of Alaska's most incredible public lands for two decades. To quote the final lines of Robert Frost's famous poem,
Two roads diverged in a wood, and I-
I took the one less traveled by,
And that has made all the difference.
The fight to protect the Arctic National Wildlife Refuge extended many years before my trip and continues to this day. To learn more, and to take action, please visit the Alaska Wilderness League.