FALL IS THE TIME OF CHANGE; THE LEAVES ARE EXPLODING TO THEIR FIERY COLORS AND THE COOLER TEMPS. ARE TRANSFORMING THE RIVERS INTO PRIME CONDITIONS FOR BUG FACTORY'S.
This is one of the most beautiful and most inspiring times to be floating down a river, we as fly anglers look forward to this time more than most. With the colder air temps. and the kids back in school most of the summer crowds are long gone and that leaves our rivers largely untouched by the massive rubber hatch's that most of us have to deal with throughout the summer months. I absolutely love those first few days that I have the boat ramp all to myself in hopes of fish jumping into the boat. 
Fall float fishing conjures up thoughts of blanket BWO hatches, ripping streamers and swinging flies for Steelhead. For me the sight of heads bobbing up and down gently sipping bugs in the soft current along the banks is something special to be a part off. But let's not forget that those perfect BWO days are often cold and very wet so being prepared and having the right gear is a big part of a successful day on the water. For most of us fall floating is the first time in many months that we are back to the five and six X tippet sizes and little bugs. But don't be scared just trust those drag systems and enjoy the ride.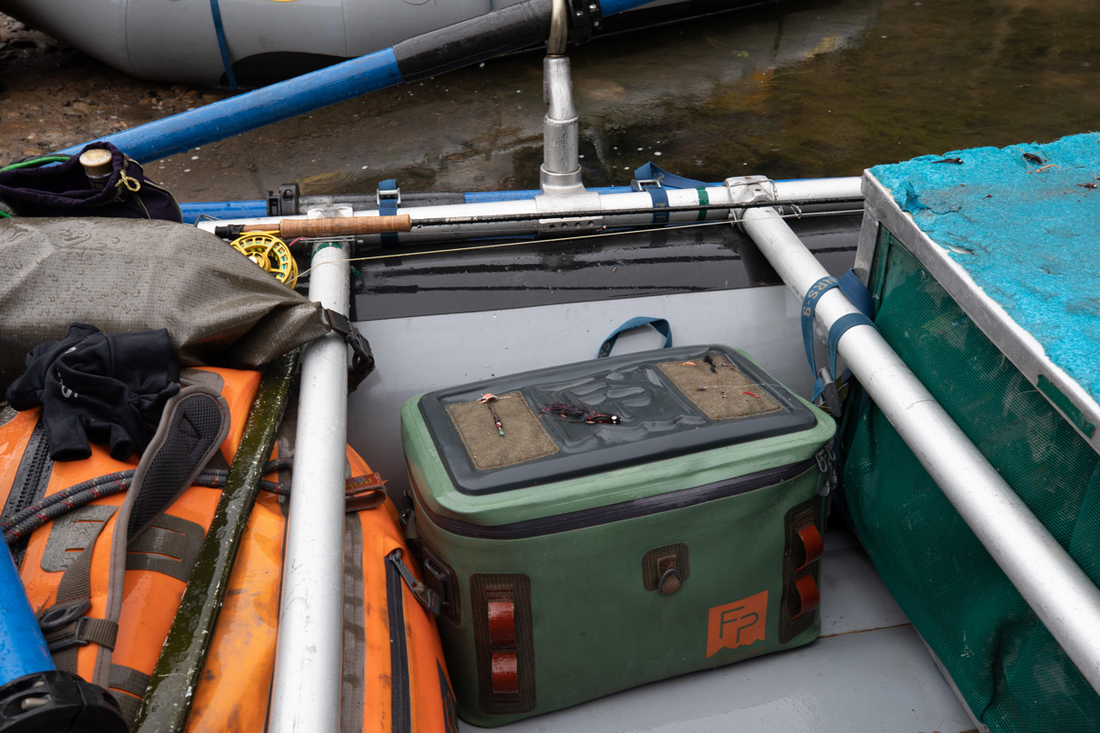 One of the things that I will do on those on those heavy BWO hatch days is to fish a size or two larger than the naturals. I want my bug to stand out in the crowd, if the real thing is a size twenty I will often times throw an eighteen or even a sixteen on those days with blanket hatches.
And for all of those streamer junkies out there no better time of year with the water temps. just perfect for a fish to move ten feet to run down that Dirty Hippy. Who doesn't love stringing up that seven weight and that sink tip and pulling out that chunk of chicken that is as long as your arm. One of the things that I will do when I am streamer fishing and not moving many fish is to change up my angle to the bank that I am stripping. It seems that some days fish want that fly moving up river and other days they will only chase it if it is coming off the bank at a ninety-degree angle from the bank. So, don't be afraid to change things up if your streamer bit is not on like it should be.
My Fishpond fall float fishing arsenal includes the Thunderhead waterproof duffel for those days that it might be in the 40's in the morning and by one in the afternoon it is in the upper sixty's and you have to shed a few layers. It is the perfect waterproof bag for the task of packing any extra clothes and other essentials that can't get wet. The Cuttbank Gear Bag is in my boat every day that I am floating. This gear bag is the best, everything that you need to get at an arm's reach away is there, from fly boxes, leader and tippet, first aid kit, toilet paper, dry fly dressing, sunglasses, snacks and more. One of the best parts of this bag is the zipper it works and works very well, smooth and effortless. The White Water Roll Top Dry Bag is another one of those items that I can't live without in the boat. This roll top bag is perfect for those items like rain Jackets that you may need at a moment's notice. And don't forget about your micro trash like chewd up leader and tippet the Largemouth PIOPOD is the ticket for keeping your boat and the environment clean. And I also never forget my Fishpond Nomad Boat Net
Follow Matt's angling adventures @mattmccannelflyfishing